Sustainability is top of mind for landscape and building professionals, with 87% seeking sustainable materials for their projects. With Schedule 3 coming into force in England the demand for reliable, permeable attractive landscapes will only continue to rise. Extending grassy areas to create car parking is an attractive proposition for commercial attractions, for their appearance and environmental benefits.
The environmental benefits of grass car parking
Opting for natural grass car parking maintains green space within developments. The maintenance of green space provides a permeable surface for excess rainwater to recharge back into the natural water cycle. Water needs to filter through permeable surfaces to minimise the risk of surface water flooding from overwhelmed urban drainage systems.
Maintaining the natural surroundings of commercial attractions
In the undeveloped countryside where built urban areas are few and far between, grass car parking for commercial attractions enhances the experience for guests by preserving the beauty of the natural environment. For attractions such as castles and country hotels, grass blends seamlessly with woodland areas and compliments the historical roots of grade-listed buildings. When it comes to holiday parks green space is a must to create an escape for keen holidaymakers. The guest experience is designed to offer a peaceful atmosphere for relaxation and a chance to connect with nature.
The problem with natural grass car parking at commercial attractions
The environmental and design benefits of natural grass car parking are clear. However, consideration of the installation of the grass car park needs to be well thought out at the planning stage of the development. Otherwise, the natural aesthetic may be spoiled. Where cars are able to park on unreinforced grass, they rarely have the strength or free-draining capacity to sustain traffic. Repetitive and intensive friction from vehicle tyres will over time churn the grass into muddy brown sludge. Cold, rainy weather conditions in particular increase the risk of damage to grass car parking. Since the soil is softer grass roots can easily become ripped out by vehicular and pedestrian traffic. The end result will be a churned-up, rutted grass car park.
Installing sustainable car parking successfully
To successfully install a grass car parking space the surface needs to be engineered to take the weight of frequent vehicular and pedestrian traffic. Grassrings by Beauxfort, is the solution to achieve a strong, unspoiled grass car parking for commercial attractions. Grassrings is a permeable, interlocking grass grid system. Designed to prevent damage to grass roots from compaction of the root zone layer. Installing Grassrings allows grass roots to anchor around the system, this added layer of protection will ensure trafficked areas will not sink or destroy the grass.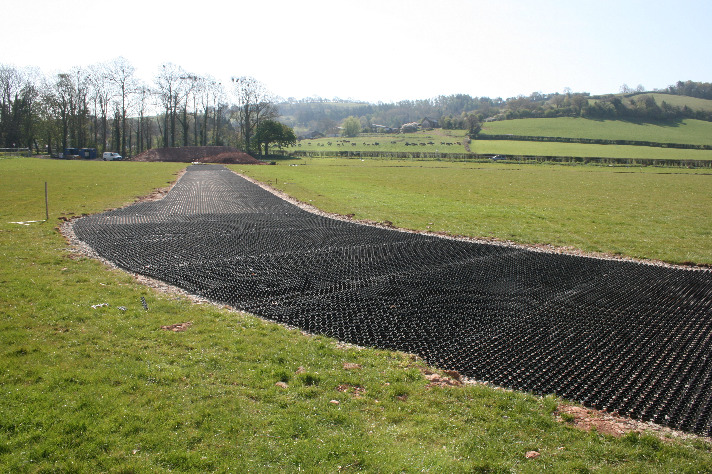 In addition to this, Grassrings still allows for normal grass growth. Grassrings grass grid system has an open structure to allow the grass roots to establish into the sub-base. Therefore, when the grass grows through the system and knits neatly together, the structure of the grid system installed below cannot be seen. The discrete look of Grassrings ensures the aesthetic of commercial attractions is not ruined by tell-tale signs of unsightly grass grid structures, alternative grid systems pertain.
Grassrings grass car parking system enhances the sustainability credentials of commercial attractions by maintaining permeable, grassy areas in developments. Even better, they are also made from 100% recycled HDPE and are fully recyclable at the end of life. Grassrings achieve a lower carbon footprint for UK projects compared to imported materials from abroad, since the system is manufactured by Beauxfort in the UK.
Given the sustainable and design benefits of installing Grassrings grass protection system for car parking, it is easy to see why landscaping professionals trust its use over paved surfaces. Beauxfort offers free site visits for projects to give the opportunity for a personalised assessment to determine whether the site conditions would benefit from a specific application. Key stakeholders of the project benefit from 1-2-1 technical advice to guarantee a smooth installation of the Beauxfort system, which is key to delivering a successful project for clients. If you have a particular project in mind that requires a site visit call 0330 055 2599 or email info@beauxfort.com