A professional finish on a luxury holiday park complex in Scotland
"The gravel in Gravelrings is very secure and doesn't migrate, but if it does dissipate over the years, it can simply be topped up and will always look the same. This is a straightforward, inexpensive job compared to tarmac. Even better, there was a cost-saving – the original gravel retention grid we were considering was 50mm deep, whereas Gravelrings performs really well with just a 25mm profile, requiring less excavation and less gravel – it's really quick to lay and great for the surrounding environment."
Contractor, Elliots Construction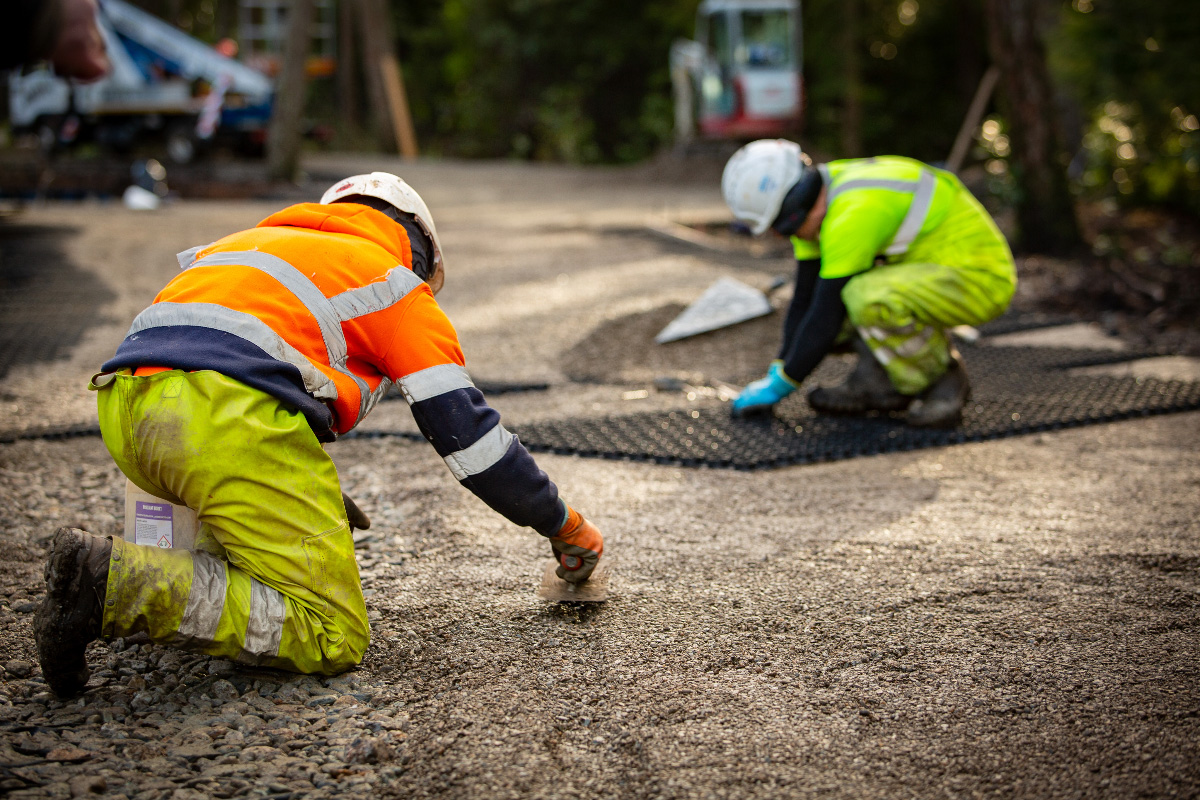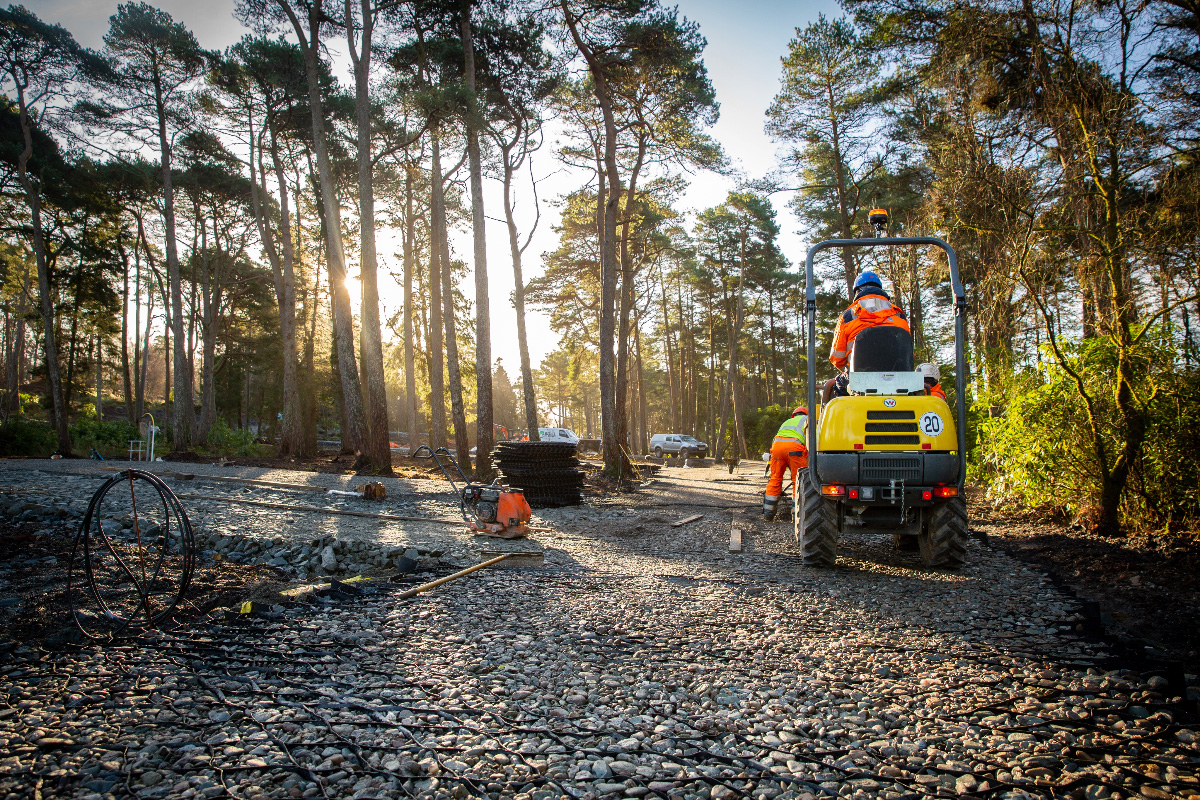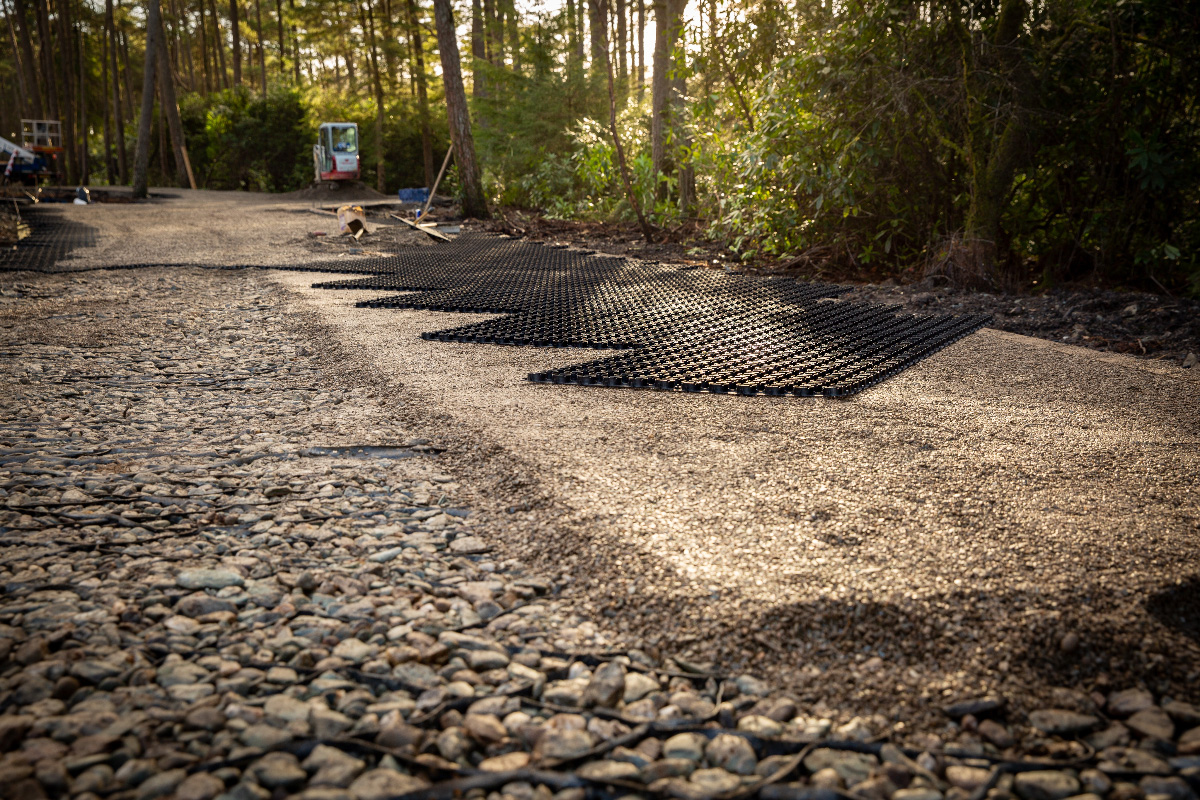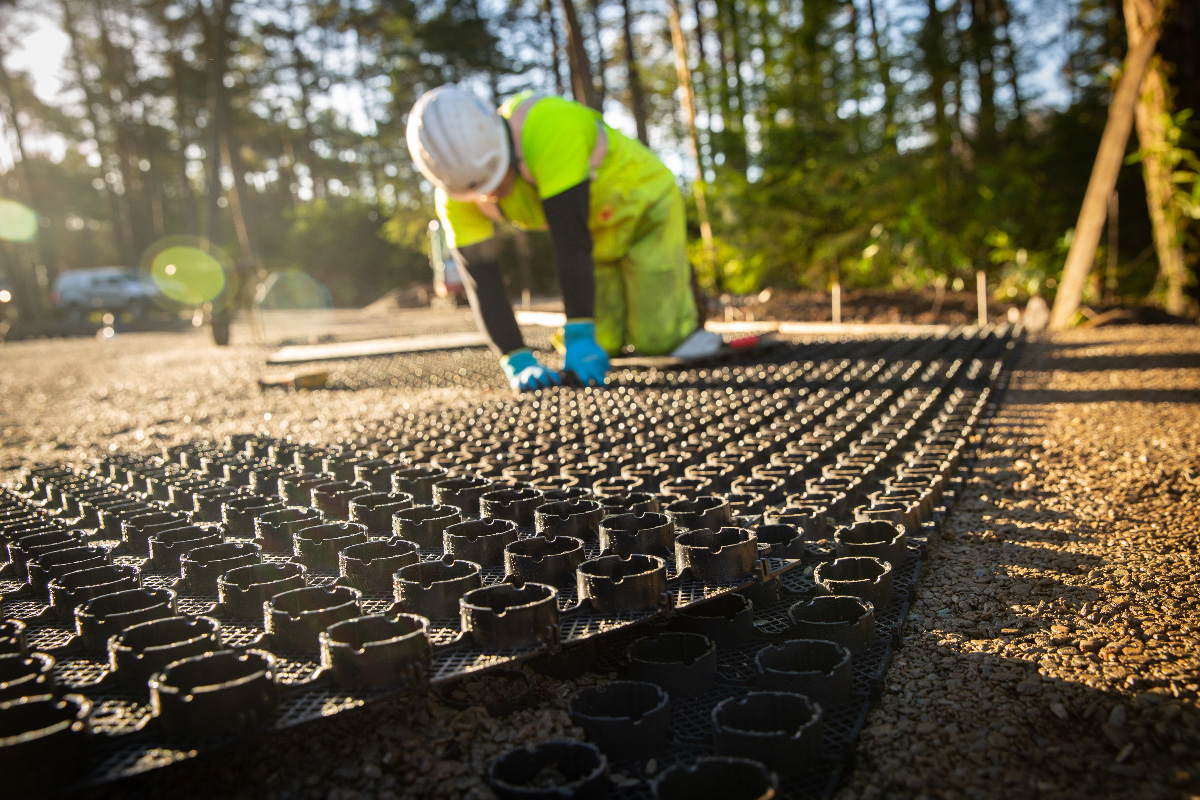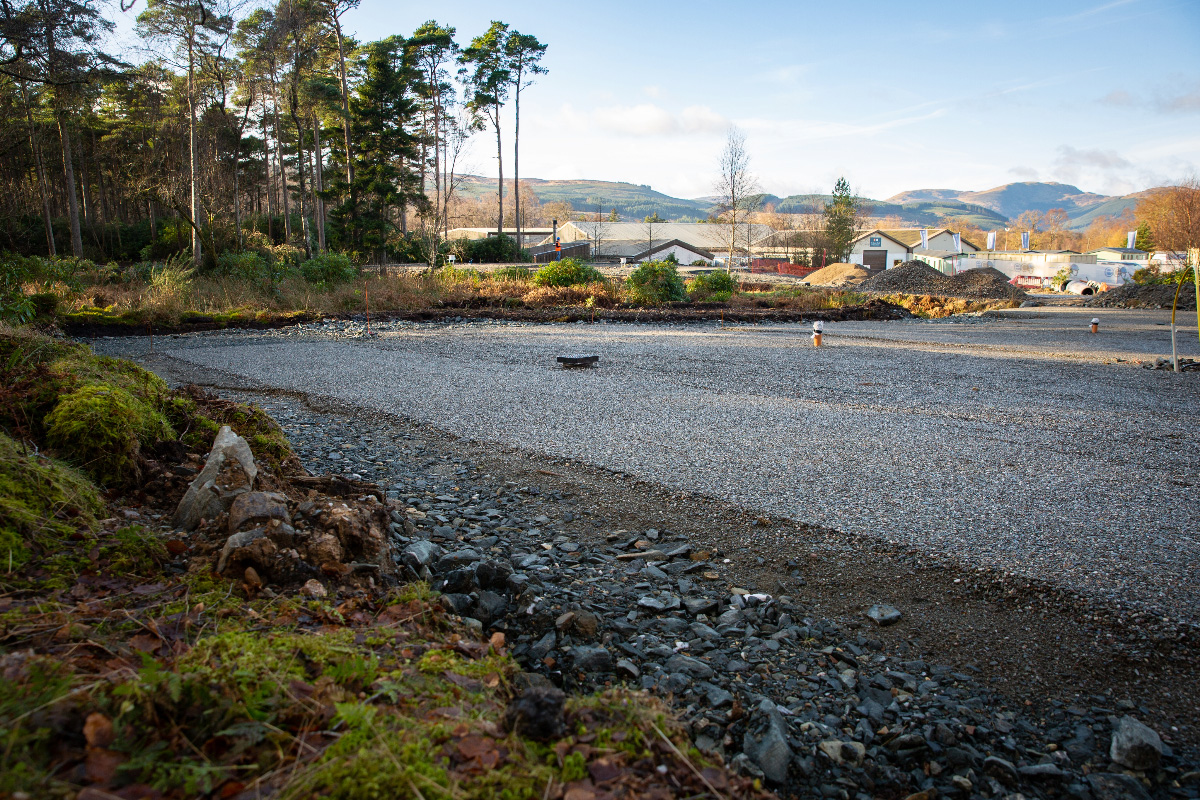 A professional finish on a luxury holiday park complex in Scotland
Beauxfort completed a large-scale landscaping project at Hunter's Quay, Dunoon, Scotland for luxury holiday park company Argyle Holidays. The award-winning holiday village is nestled in a stunning natural setting against a backdrop of mountains and woodland, with panoramic views across the Holy Loch. The project incorporated 8000 sqm of
Beauxfort's gravel grid system, Gravelrings
and 2565 sqm of our ground control system, Groundcell, into a site of 40 caravan pitches and access roads. A particular consideration for this project was that the holiday park was home to trees under a protection order, so any work carried out and materials used had to be sensitive to the needs of the trees and follow the guidance of the sustainability manager appointed to the project.
A track record at luxury holiday parks
The lodges (and access roads) at Hunter's Quay extend through the trees and into the forest, so the tree roots had to be protected from the weight of vehicular traffic. The site is also sloped so it was important that the gravel grid system used was able to hold the gravel firmly in place, despite the rigours of daily traffic. Both the client and the chief contractor, Elliots Construction Ltd, had already seen the benefits of using Gravelrings at luxury holiday park, Stratheck. Initially, 700 sqm of Gravelrings were installed. Due to the successful installation and client satisfaction, an additional 1200 sqm were added to the project.
Easy, speedy installation
When Elliots Construction used Gravelrings at Stratheck, they had been particularly impressed with the ease and speed at which they were able to lay Gravelrings over such a large area. In addition to this, the low profile of the grid (25mm) meant that they used less gravel across the whole project than they would have used with other gravel grid systems, which significantly reduced the cost of the overall project. When they saw the site at Hunter's Quay holiday park, Gravelrings was the obvious choice for the project.
Sustainability a main consideration for holiday parks
Gravelrings is a fully permeable, SuDs compliant system which allows rainwater to pass through and drain away naturally into the ground below. This was an important consideration because the roads at Hunter's Quay needed to be kept flood-free, but installing large-scale drainage systems underneath the roads would have disturbed the protected trees. Laying Groundcell underneath Gravelrings provided an extra layer of stability, defending against potential tree damage by giving vital protection to the roots. Groundcell is a cellular confinement system similar to honeycomb in structure. Once filled with soil or aggregate, the honeycomb structure creates a stable and solid sub-base above the roots, spreading the imposed load and helping to prevent any damage.
Durability = sustainability
As well as being SuDs compliant and less invasive than other landscaping options, Gravelrings and Groundcell are eminently suitable for holiday parks that demand sustainability. This is because Gravelrings are made from 100% recycled high-density polyethylene (HDPE) which is very strong. The quality of the material used means that it is more durable than alternatives, which may become brittle over time and snap. The material can also be fully recycled at the end of its life. While, Groundcell allows holiday parks to develop their land while working with the natural environment to ensure trees thrive.
A satisfied customer
Dave Ashe from Elliots Construction, who was Senior Site Manager at the Dunoon project had this to say about the product: "Gravelrings was a far better product for this luxury holiday park than tarmac – there's no need for surface water drainage, which would have disturbed the trees, because it's completely permeable and means water goes back into nature , not into sewers. The gravel in this system is very secure and doesn't migrate, but if it does dissipate over the years, it can simply be topped up and will always look the same. This is a straightforward, inexpensive job compared to tarmac, which inevitably needs patch repairs over time and never looks the same afterwards.
"The support that Beauxfort gave us from beginning to end was also superb – everything arrived exactly when they said it would. Even better, there was a cost saving – the original gravel retention grid we were considering was 50mm deep, whereas Gravelrings performs really well with just a 25mm profile, requiring less excavation and less gravel – it's really quick to lay and great for the surrounding environment."
Always a professional finish
The combination of Gravelrings with Groundcell across the project at Dunoon has resulted in surfaces that are smooth and stable, providing a durable, protective and environmentally friendly surface for trafficked areas. They are also beautifully natural and discreet, which is very fitting for such a stunning setting in the hills of Scotland.
The success of every project is important to us. Beauxfort offers free site visits so that we can answer any stakeholder questions and our technical product experts can ensure suitability – we would never recommend Gravelrings for a holiday park if we didn't think it was suitable. If you have a project you'd like to run by us please get in touch.
Landscape systems featured in this story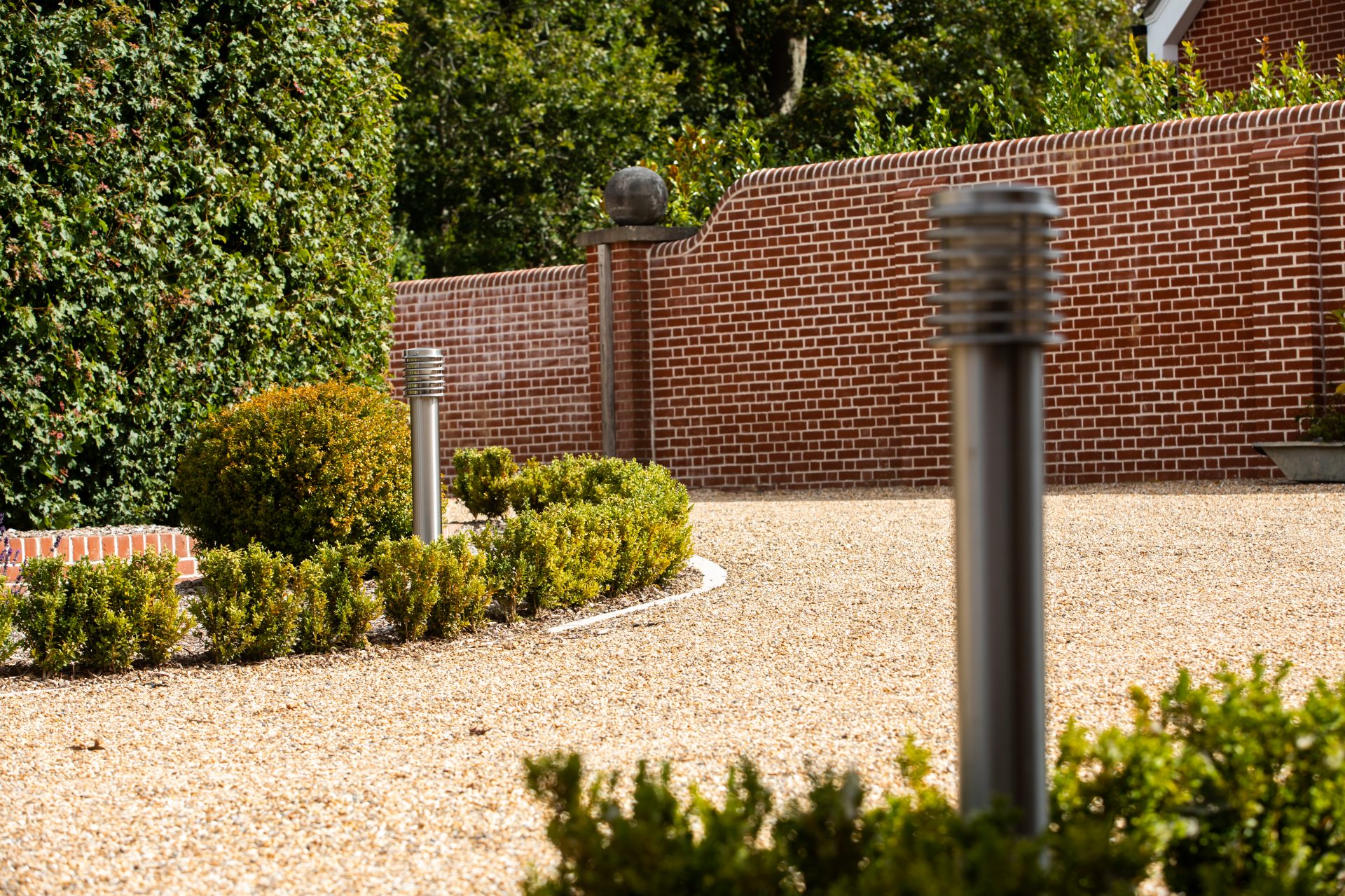 Gravelrings
Gravelrings gravel grids for strong, stable, stone migration free surfaces
View Gravelrings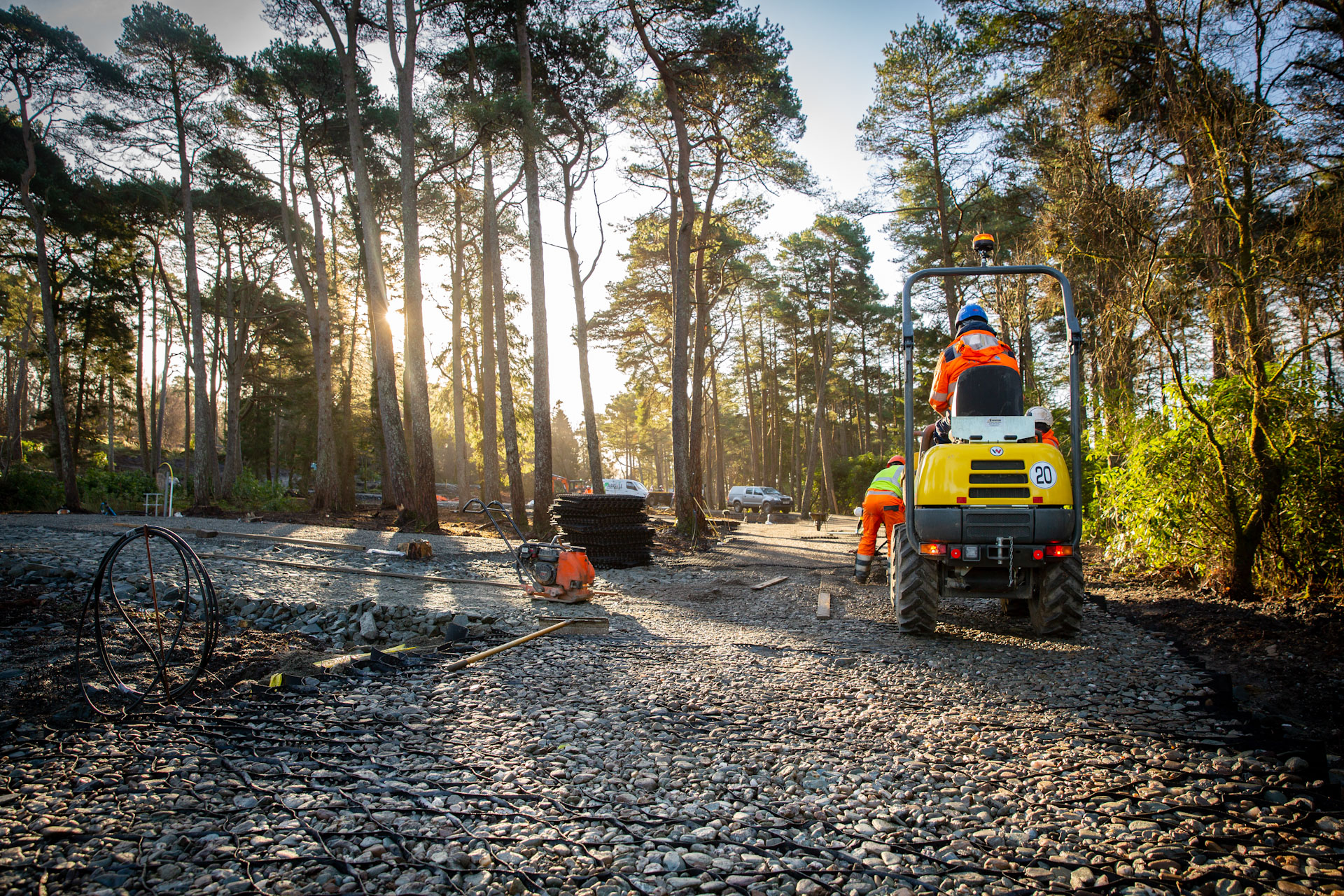 Groundcell
Groundcell ground control system defends against erosion and protects tree roots
View Groundcell
Discover Beauxfort's range of unique landscape products
Gravelrings grid system for gravel driveways, Grassrings grass protection system, and Groundcell erosion control and tree root protection landscape systems.