In 2024, we can expect to see the implementation in England of Schedule 3 of the Flood and Water Management Act 2010, intended to better control flooding and wastewater discharges. Schedule 3 will provide a framework for the approval and adoption of sustainable drainage systems (SuDS) that help to regulate the effects of rainfall and decrease the volume of water flowing into sewers and storm overflow discharges. Some contractors and developers have already embraced the principles of SuDs, prioritising the use of landscaping materials that allow the natural drainage of water as close to its source as possible. For those who haven't, it may be tempting to think, 'We'll cross that bridge when we come to it'. However, there are several sound business reasons why the incorporation of SuDs into projects should be prioritised now.
Delays on projects
The implementation of Schedule 3 will impact the planning process on construction projects and one of the most notable proposals is the introduction of SuDS approval bodies (SABs) which will have statutory responsibility for approving the drainage element of a project. Developers, and those involved in delivering projects within developments, will have to seek drainage approval from a SAB before construction is allowed to start – this will apply to any structure that has the potential to impact the land's ability to absorb rainwater. Furthermore, the SAB can only approve a development if they have consulted with relevant organisations or authorities – this might be the Environment Agency, a highway authority, a sewerage undertaker or The Canal and River Trust.
Don't be the cause of the delay
Lead times for projects can be long, it would therefore make sense to start incorporating SuDs in plans now, because Schedule 3 may well be in play by the time a project is about to start. Needless to say, this could lead to significant delays, particularly where construction is tightly scheduled and one phase cannot start before another is completed. It would be far wiser for businesses to get to grips with SuDs now (if they haven't already), to avoid being the weak link in the chain that causes delay for everyone else and/or the project owner.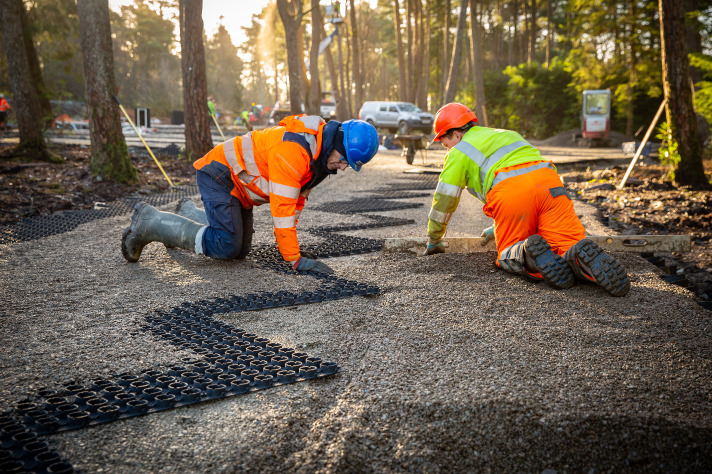 Get ahead of the curve
We all want the reassurance that our project will be completed to a high standard, with the minimum of fuss and on time. As the deadline for the implementation of Schedule 3 draws nearer, developers, housebuilders and contractors that are well-acquainted with Schedule 3 and that can advise accordingly and provide evidence of having delivered SuDs projects, will be a far more attractive proposition than those who have yet to embrace it.
Well-designed SuDs are often lower maintenance
SuDs are primarily about controlling water at source rather than directing it to sewers – working with nature, not against it. If water is allowed to drain away quickly and naturally, there is less likelihood of it causing damage where it sits (especially in cold weather). For example, the combination of sitting water and the freeze/thaw cycle in winter can cause asphalt to crack. These cracks then need to be repaired quickly before they become even larger. It is tempting to think that ongoing maintenance to deal with these issues is inevitable, or someone else's problem, but it poses reputational risk. It can be a cause of great frustration, seeing cracks appear in relatively newly laid asphalt. And the last thing any contractor wants is to be associated with is a thorny issue which, let's face it, end customers can be very vocal about. It is far better to install a SuDs that is durable and low maintenance and looks good for years to come.
SuDs using gravel can swallow less time and money
Gravel has been used to aid drainage for years, and for good reason – it allows surface water to drain away naturally and requires no pressure washing or special cleaning with toxic substances. A grid system such as Gravelrings also ensures that the gravel doesn't migrate, which used to be a common complaint. As well as being an ideal material for SuDs, Gravelrings is simpler, quicker and less expensive to install than other common default methods of hard landscaping. It also uses less gravel than other gravel grid systems, making a saving on materials as well. What business wouldn't want to make savings on time and manpower, as well as materials?
SuDs is the right choice on all counts
We have written about the widespread community benefits of sustainable drainage systems before, and it is clearly the right thing to do environmentally. Consumer support for sustainable options is growing rapidly, and we have seen that reflected in our own market research amongst contractors, where 87% of respondents said that sustainability was of increasing interest to them when selecting materials. When combined with the business benefits listed above and the fact that Schedule 3 will very soon be mandatory anyway, it would seem being Schedule 3 compliant is a no brainer for forward thinking businesses.