Gravelrings gravel grids
for quick and
easy installation

Gravel driveway grids designed for rapid installation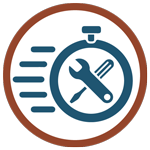 Installing Beauxfort's Gravelrings gravel driveway grid system is both quick and easy, thanks to its design. Each 500mm square gravel driveway grid has a simple but firm clipping mechanism and the grids are supplied pre-assembled in 1m² sheets. Just lay on the prepared sub-base and clip together.

With the lowest profile of gravel retention systems on the market, at just 25mm deep, Gravelrings gravel driveway grid systems require less digging, which in turn means less muckaway (the removal of excavated soil and other materials), which equals either fewer skip loads to be paid for or fewer runs to the tip, saving on time and fuel, and lowering disposal costs.
Discover Beauxfort's range of unique landscape products
Gravelrings grid system for gravel driveways, Grassrings grass protection system, and Groundcell erosion control and tree root protection landscape systems.