Gravelrings feature the
strongest gravel
stabilisation grid design

An exceptionally strong gravel stabilisation grid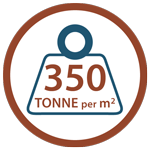 Beauxfort's Gravelrings utilises the strongest geometric shape to deliver the sturdiest gravel stabilisation grid design.The integrity of the circular cell design creates a gravel stabiliser that provides exceptional strength.

With a load bearing capacity in excess of 350 tonnes per square metre, a Gravelrings gravel stabilisation mat can withstand heavy vehicle movement and parking, including occasional lorry traffic.

Discover Beauxfort's range of unique landscape products
Gravelrings grid system for gravel driveways, Grassrings grass protection system, and Groundcell erosion control and tree root protection landscape systems.