Gravelrings- the gravel
grids designed to
remain unseen


A gravel retention system with hidden benefits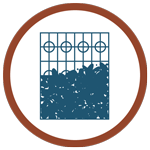 Beauxfort's Gravelrings gravel retention grid system is designed to remain concealed, providing hidden but effective stability beneath the surface.

The Gravelrings gravel retention system has the lowest profile gravel retaining grids on the market at just 25mm deep. The cellular cells are designed to be overfilled and to hold the aggregate in place, preventing the gravel retention grids from becoming visible.
Discover Beauxfort's range of unique landscape products
Gravelrings grid system for gravel driveways, Grassrings grass protection system, and Groundcell erosion control and tree root protection landscape systems.