Grassrings feature the
strongest grass protection
grid design

An exceptionally strong grass grid reinforcement system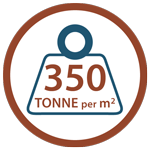 Beauxfort's Grassrings is designed using the strongest geometric shape - the circle - to create the most robust grass grid reinforcement system.

The circular cell design produces a grass protection system that is exceptionally strong - with a load bearing capacity in excess of 350 tonnes per square metre. With this integral strength, Grassrings protective grass grids can withstand vehicle movements and parking, while maintaining a healthy grassed surface.
Discover Beauxfort's range of unique landscape products
Gravelrings grid system for gravel driveways, Grassrings grass protection system, and Groundcell erosion control and tree root protection landscape systems.