Grassrings grass protection
system's unique open
grass grid structure

Unique open structure grass parking grid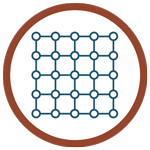 Our exclusive grass parking grid design features a unique open grid structure. This grass grid design feature allows grass roots to develop and grow laterally unhindered, while obtaining all the nutrients, oxygen and moisture they need.

The open grass grid provides more than a 90% root development area and 100% grass reinforcement coverage, to maintain a healthy and consistent grassed surface despite vehicle movement and parking.

Beauxfort's Grassrings is also a fully permeable grass parking grid system suitable for SuDS-compliant schemes.
Discover Beauxfort's range of unique landscape products
Gravelrings grid system for gravel driveways, Grassrings grass protection system, and Groundcell erosion control and tree root protection landscape systems.