Grassrings grass
protection system's
quick and
easy installation

Grass protection grids designed for rapid installation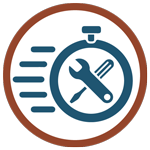 Installing a Grassrings grass grid system is a rapid affair. Supplied pre-assembled in 1m² sheets, these strong but lightweight grids, each 500mm square, have a simple but firm clip-in mechanism, making it quick and easy to clip grids together and gain full grass reinforcement cover.

With a low profile of just 30mm deep, Grassrings grass grid installation requires minimal excavation prior to being laid.
Discover Beauxfort's range of unique landscape products
Gravelrings grid system for gravel driveways, Grassrings grass protection system, and Groundcell erosion control and tree root protection landscape systems.