The Power Of The Circle
For A Forever Perfect
Finish
Circles of sustained strength
Gravelrings are a first-to-market gravel retention system that is engineered to be strong. Their strength is derived from the unique circle design. The science is simple. Stress is evenly distributed around the circumference of a circle instead of concentrated at any one point. Think of diving helmets, space helmets and even the earth, which are circular and resilient.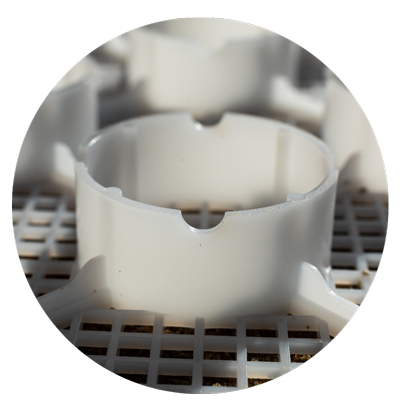 What makes Gravelrings the ideal solution?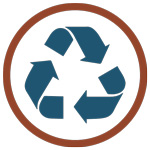 Sustainable material – 100% recycled and recyclable HDPE.
Low carbon footprint – manufactured in the UK.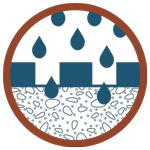 Keeps pathways, access roads and driveways flood-free (SuDS compliant).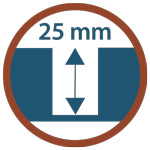 Gravelrings reduce the overall project costs – on average need 30% less gravel to fill the system.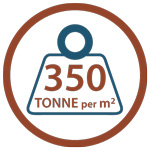 Leaves a forever perfect finish – durable and can withstand 350 tonnes per square metre.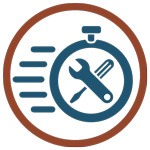 Ongoing maintenance costs are minimal – gravel only needs topping up on average once to twice a year.
See the innovation for yourself
We will happily send you free samples so that you can see how innovative
our Gravelrings gravel retention system is.
The advantages of closed-cell technology
Gravelrings are the solution to common problems associated with loose gravel surfaces, including stone migration, persistent weed growth, and surface instability. The secret lies in its circular design.
The Gravelrings system is formed with a closed-cell structure moulded to a mesh-base, which tightly locks and secures the gravel into place. After compacting with a whacker plate, a solid and durable surface remains, looking freshly laid for years to come. Even on slopes up to a 20% gradient, the circular advantage ensures that the gravel won't move, rut or sink. Your customers will appreciate the stable and attractive surface provided by Gravelrings.
Hear it from those who've tried Gravelrings
Panel size
500mm x 500mm*
*Comes supplied to site in a 1sqm tile
Gravel size (recommended)
6mm - 20mm (angular quarried aggregate only, marine washed, rounded and mixed aggregates should not be used)
Gravel demand
58 – 67kg per m²
Material
100% recycled*, UV stabilised HDPE
* White panels are made from part-recycled materials
Resistance
Chemical resistant
Colour
Black or White**
** Other colours available to order (subject to lead time and minimum order quantities)
Load Bearing capacity
350 tonnes per m²***
*** When filled with with 6-20mm angular gravel to a depth of 15mm above the top of the cells
Gradients
Gravelrings can be laid on slopes depending on the gradient - contact our sales team for advice
Discover Beauxfort's range of unique landscape products
Gravelrings grid system for gravel driveways, Grassrings grass protection system, and Groundcell erosion control and tree root protection landscape systems.