Beauxfort looked to dish the dirt on how homeowners feel toward the materials used in their driveway projects. The research indicated that homeowners felt the two most important factors to them when selecting a driveway were the practicality and quality of the surface. One homeowner felt that "quality lasts with time", while another stated, "the driveway has got to work to last". With both these factors high on the homeowner's mind, what makes building a gravel driveway on a slope practical?
Building a gravel driveway on a slope
It is unusual to enter a property and be met with an entirely flat landscape to build upon. Building a gravel driveway on a slope can be a cause of concern for some contractors. Sloped driveways are challenging to lay loose gravel upon as the stone travels and will create thin, rutted patches. In the colder and wetter months, loose gravel driveways suffer from displaced stone and become a slippery mud slide. The overworked ground will become unstable and prone to the dreaded churn. An aesthetic most homeowners seek to avoid.
Laying the appropriate foundations with a gravel grid system
Fortunately, there is a solution to building a gravel driveway on a slope that starts with the appropriate foundations, a gravel grid system. Closed-cell gravel retention systems are essential when the landscape has a light or steep gradient. With a gravel grid system sitting below the gravel will fix itself into the modular cells interlocking the stone to prevent any motion. Flexibility is crucial when laying a gravel grid system upon a slope. Ridged, hard plastic grids will not stand the test of time as they do not have the flexibility to work with the grooves and shapes of the land. Gravelrings gravel retention system particularly excels when met with tough slopes, the flexibility of the grid allows its use on slopes up to a 20% gradient.
Contractor's trust Gravelrings gravel retention system. In fact, the Beauxfort research highlighted 100% of contractors surveyed would purchase Gravelrings again. A delighted contractor testified as to why Gravelrings reigns superior against alternative gravel retention systems on the market: "Unlike other systems I had come across which were prone to "riding up" and becoming uneven Gravelrings seemed more solid and stable". Gravelrings gravel grid system is a worthy investment and one that is highly valued by landscaping professionals across the UK.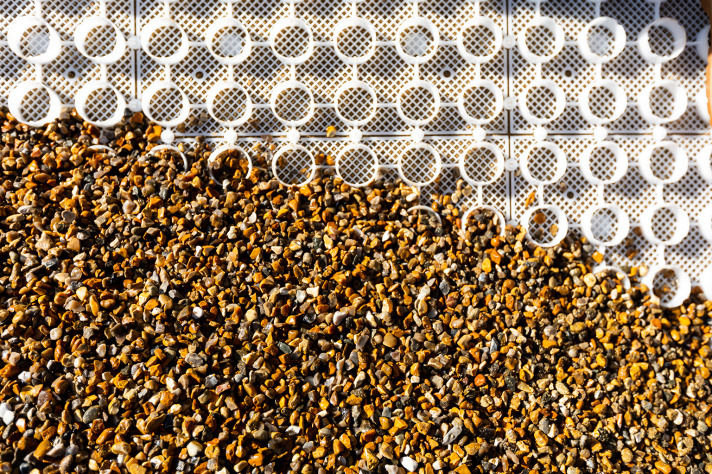 To discuss how Beauxfort can help you build a gravel driveway on a slope call 0330 055 2599 or email info@beauxfort.com. Additionally, order a free sample of Gravelrings gravel grid system to feel the quality of British craftsmanship.