A gravel driveway inclined to nature
"We would like to say how pleased we are with your Gravelrings product. Quick to install and easy to cut on site, it has provided a firm base for 20t lorries to drive over without sinking or moving the 10mm gravel it retains. We will definitely be using Gravelrings again for a permeable driveway and would most definitely use it in further developments for our clients in the future."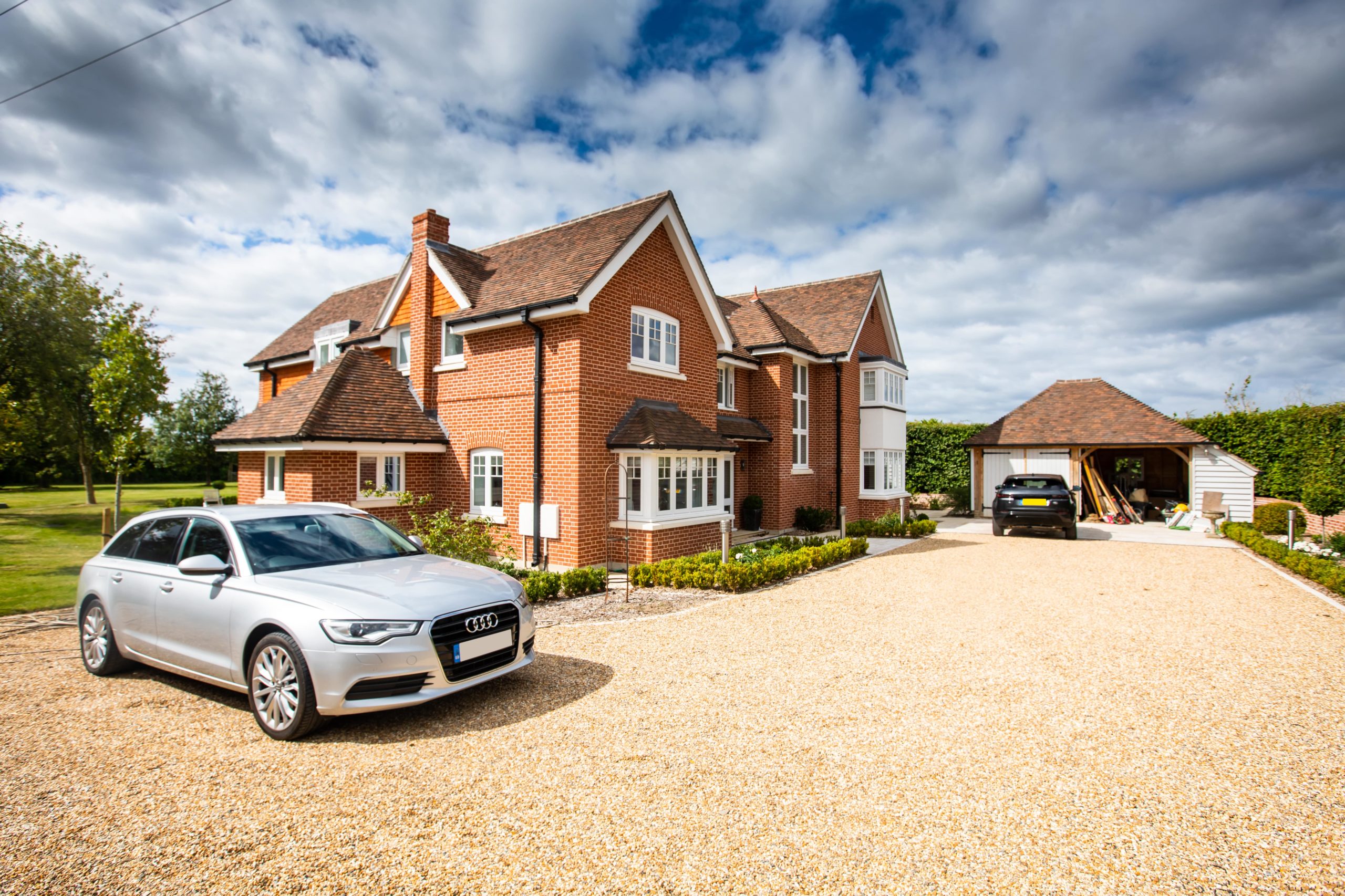 A driveway solution fit for work and the environment
Hurstpierpoint construction firm Canning-Ericsson is well known for the superior design, build and landscape of properties across the South East of England. Since 1985, they have specialised in a wide range of construction work which takes customers from initial concepts, through planning and building regulations approvals, to on-site construction.
Installing Gravelrings
In 2018, director Michael Alderton decided to employ his firm's expertise to design and build his own home - a new build detached property on a large footprint of land opposite a conservation area.
The special nature of the location demanded that the new property had to be in keeping with the local architecture and sensitively designed. This premise extended to the exterior of the property, not just to the house itself.
The driveway, which was slightly inclined, had to include a strong and durable grid system that would give hidden, but highly effective, gravel driveway support. This became yet another reason to go with Beauxfort's Gravelrings system.
Michael felt that the Gravelrings grid system was superior to others, because of its integral mesh base. Whereas the gravel in cheaper systems could get underneath the grid and lift it up, Gravelrings includes a mesh base to prevent this from happening and the grids interlock closely to hold the gravel firmly in place.
Gravelrings was used on the large sloped area of the driveway, and after nearly nine months of continual use, the gravel has remained in place, unlike the flat section of the drive, which was laid without Gravelrings, where it has to be swept back into place regularly.
The moulded-in mesh base means that the Gravelrings do not rise up, as the aggregate is prevented from undermining the grids when the pressure of tyres pushes the gravel downwards.
Gravel to soften a hard exterior
Part of the project included the construction of a large gravel driveway. A gravel driveway was chosen to complement the hard brick style of the property and soften the overall effect. It was felt that the appearance of the gravel driveway would better suit the beautiful landscaping surrounding the new home and the wider conservation area, too.
To keep the gravel driveway looking at its best, Beauxfort's Gravelrings system was put in place to ensure positive, long-lasting results, including minimal stone migration, deep ruts or inconsistent coverage.
Michael had also chosen gravel instead of a concrete or tarmac driveway because of its free draining qualities, preventing run-off water from overwhelming drainage systems, potentially causing flooding issues.
As a keen beekeeper and nature lover, Michael opted for National Trust-style landscaping to surround his home, which he felt would be perfect for the local wildlife.
Box hedging and perennials were part of the design, as they take little work to maintain but flower well, making them ideal for bees and butterflies. In addition, the landscaping design featured some evergreens, which keep their structure throughout the year, making the garden look beautiful in winter too.
Landscape systems featured in this story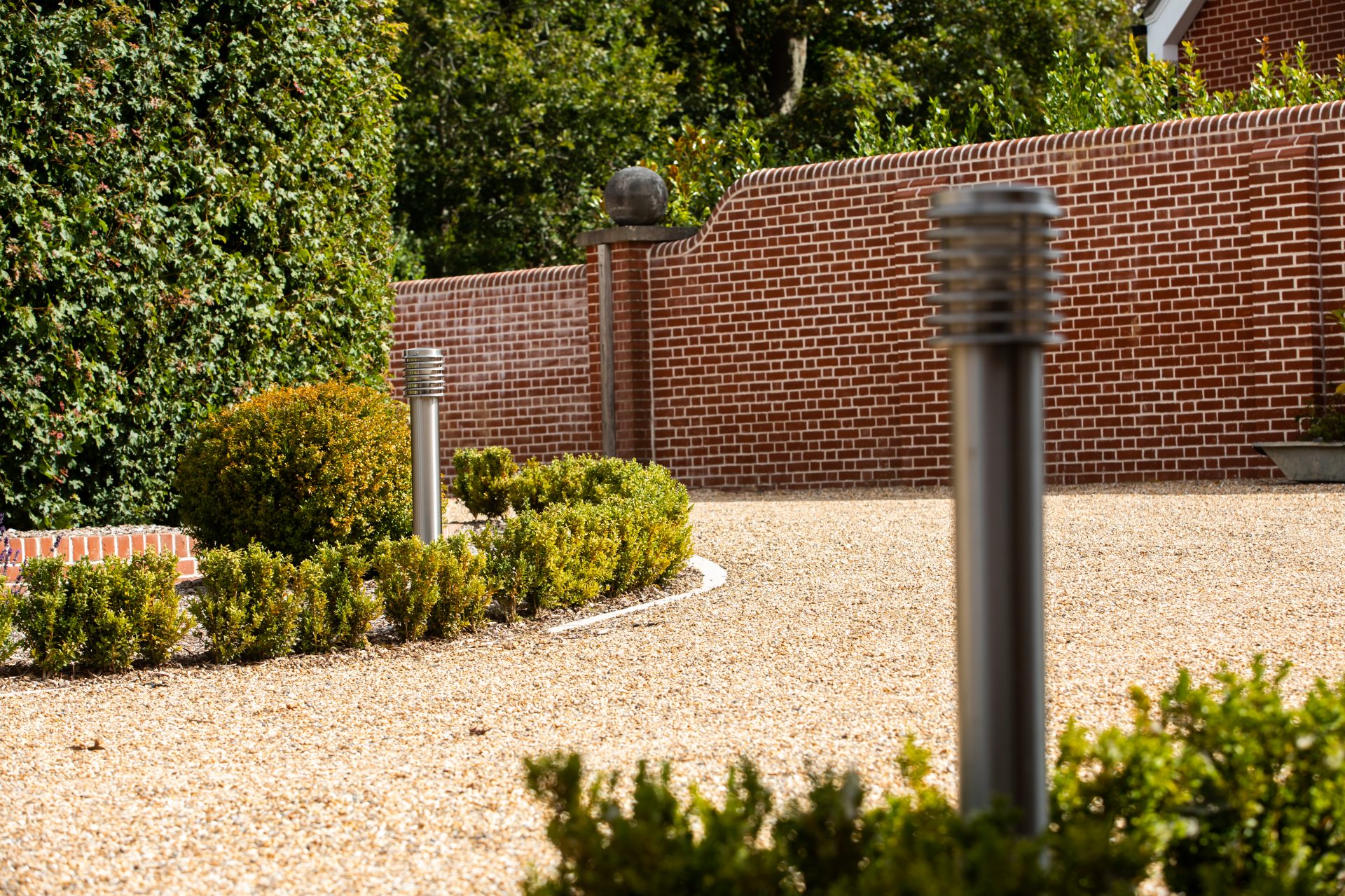 Gravelrings
Gravelrings gravel grids for strong, stable, stone migration free surfaces
View Gravelrings
Discover Beauxfort's range of unique landscape products
Gravelrings grid system for gravel driveways, Grassrings grass protection system, and Groundcell erosion control and tree root protection landscape systems.