The ideal protection
Beauxfort's Groundcell creates a solid and stable sub-base beneath gravel driveways, providing vital protection to tree roots beneath the surface. Its strong honeycomb structure spreads the load of traffic evenly and prevents damage to the health of the trees around a gravel driveway.

Groundcell can also be used on slopes and banks to protect against erosion yet encourages grass growth.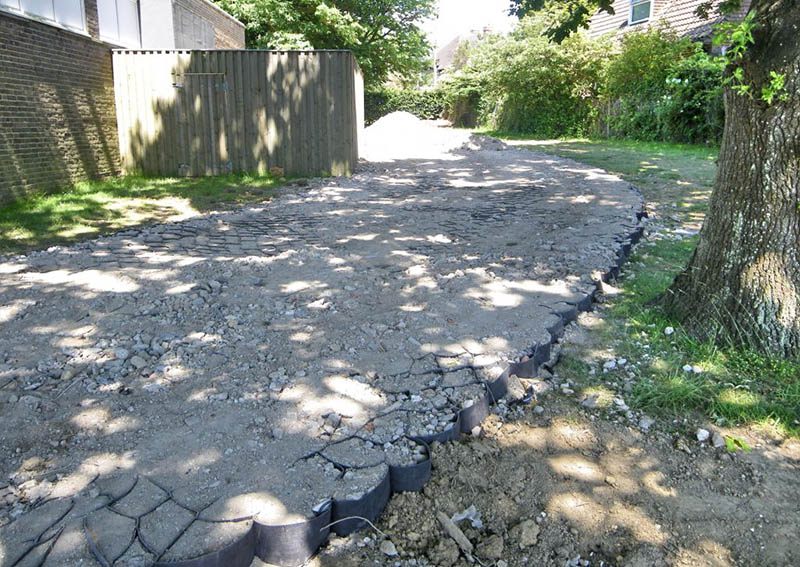 How Groundcell works
The honeycomb structure of Groundcell provides a strong base that protects tree roots from the weight of driveway vehicles by evenly distributing load. It provides a barrier that allows tree roots to thrive while giving a gravel driveway the strength and stability required for a long-lasting finish.
Creating driveway perfection
When installed beneath Beauxfort's Gravelrings, Groundcell provides an extra layer of stability that defends against potential tree damage by giving vital protection to their roots. Our Gravelrings can be installed above Groundcell, providing yet more stability and longevity to a gravel driveway. The cellular structure of Gravelrings holds gravel in pockets that prevent the movement of stones.
Ideal on slopes
Groundcell can be used to protect against erosion on grassy gradients. By stabilising the soil, Groundcell prevents the irregular settlement and washout that creates unsightly slopes.
Related Products
Our clever J Fixing Pins fully secure Beauxfort's Groundcell in place, making installation quick and easy. Their simple design makes them strong and durable, providing peace of mind of a long-lasting finish.
Groundcell Ground Control System
If you can't find what you are looking for, contact us using the link below – we'd love to hear from you!